PLUMBING SERVICES
Tyrone Guy Ltd providing a safe and reliable plumbing service in the Portsmouth area - including Fareham, Portchester, Cosham, Waterlooville, Havant and Emsworth
Qualified plumbers for all your plumbing needs - from major projects to small repairs
Here at Tyrone Guy Ltd we cover all types of plumbing problems from quick fixes such as replacing taps or repairing leaks to much larger projects such as bathroom plumbing and kitchen plumbing. We can also take care of any drainage issues that you may have from simple sink and toilet blockages to more serious soil stack issues.
Anything is possible atpositive Tyrone Guy Ltd so give us a call now on 02392 645 557 to find out how we can help you.
Bathroom Plumbing
Kitchen Plumbing
Toilet repairs
Power Flushing
Repairs to water leaks in pipework
Radiators / Valves / Thermostats Installed / Replaced
Repairs to shower controls & pumps
Replacement hot & cold water tanks
Unblock sinks, basins, baths or shower waste pipes
Replacing or repairing taps & control valves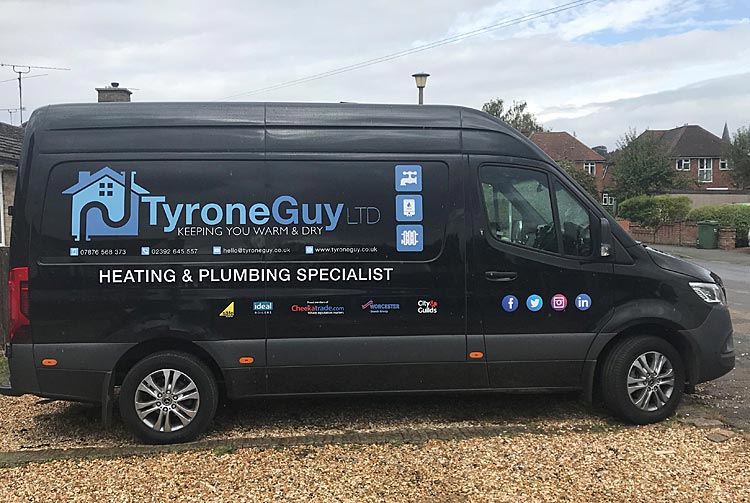 Fit new bath/shower taps.
The job was done quickly and professionally. Tested afterwards for leaks and working correctly. Bathroom left clean and tidy. Would recommend. Customer, Portsmouth
Changed bath and sink taps.
Speedy and efficient, very helpful in a crisis, took good care of property during work, would recommend. Customer, Portsmouth
Hours of Operation:
Monday – Friday
8:00 a.m. – 8:00 p.m.
Saturday – Sunday
Closed
Proudly Serving Southern Hampshire
Contact Us Today:
No problem is too small
CALL: 07876 568373
EMAIL: HERE